The Ultimate Guide to Sensual Massages [For Clients]
Sensual massages are a great way to explore your body and discover new sensations. In this ultimate guide, I'll cover everything you need to know about erotic massages, including the different types, how to prepare, what to expect, and more. So sit back, relax, and get ready to learn about the art of sensual touch.
Tips and Advice
11. Jun 2023
139 views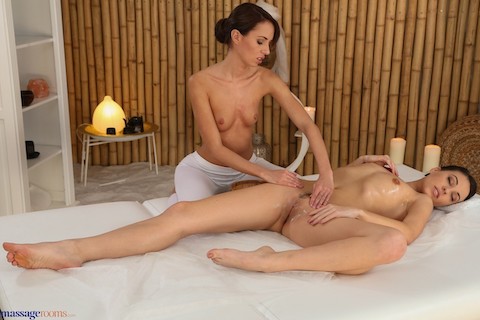 The Sensual and Playful Guide to Mind-Blowing Massages [For Naughty Clients] Unleash Your Desires with Erotic Massages - A Seductive Journey
Hey there, you adventurous souls! Get ready to dive into a world of sensual pleasure and tantalizing touch. In this ultimate guide, I'll take you on a wild ride through the art of erotic massages, revealing all the juicy details you need to know. So, sit tight, prepare to ignite your senses, and let's embark on this seductive journey together.
What's the Buzz About Erotic Massages?
Picture this: a massage that goes beyond relaxation and delves deep into the realm of pleasure. Erotic massage is where it's at, my friends. It's a tantalizing blend of relaxation and sensual touch, designed to awaken every inch of your body. This mind-blowing experience focuses on stimulating those erogenous zones, leaving you breathless and craving for more.
Erotic Massages: The Sensuous Playground
Now, let's get down to the steamy details. Erotic massages are often referred to as Sensual Massages, Happy Ending Massages, Adult Massages, Nude Massages, or Orgasmic Massages. Some folks mistakenly call them Exotic Massages or Tantric Massages, but hey, we're here to set the record straight.
What Sets Erotic Massages Apart?
Well, it's time to get naked, my friends! Unlike your regular relaxing massages, in erotic massages, both you and your masseuse will be baring it all. Yep, clothes are not invited to this sizzling party. And guess what? The fun doesn't stop there. Erotic massages usually conclude with a thrilling Happy Ending. Oh yes, you heard that right! It's all about that grand finale of pleasure.
Exploring the Sensual Landscape
Let's talk about the types of erotic massages that will make your heart race and your body tingle with anticipation. Brace yourselves for the ultimate sensual indulgence:
Full Body Sensual Massage / Full Body Massage: Get ready to be pampered from head to toe. This session covers your entire body with blissful strokes, using techniques inspired by the classic Swedish massage. The masseuse's hands and forearms will transport you to a state of pure relaxation.

Nuru Massage: Ah, the famous Nuru massage—also known as Body-To-Body or Body Slide. Brace yourself for an intimate encounter like no other. This erotic massage involves the masseuse using her entire body to massage you. Imagine the sensation of her tantalizing touch as she slides and glides with the help of nuru gel or massage oil. Prepare for close contact and mutual touch, making this massage a client favorite.
Happy Endings: Unlocking the Pleasure Vault
Now, let's talk about the grand finale—Happy Endings. These exhilarating endings are all about taking you to the pinnacle of pleasure. Here are a few tempting options to choose from:
Lingam Massage and Yoni Massage: Indulge in the intimate art of pleasure with Lingam massage (for men) or Yoni massage (for women). Allow the skilled hands of your masseuse to guide you to a state of ecstasy. The focus here is on long-lasting pleasure, with orgasm as a delightful side effect. Remember, it's all about savoring the journey, not just the destination.

Oral Happy Ending: Get ready for the ultimate treat—a combination of Lingam massage and sensual, tantalizing oral pleasure. Experience the magic of an oily Lingam massage paired with a mind-blowing, long-lasting oral sensation. It's a finale fit for connoisseurs of French seduction.

Body-To-Body Happy Ending: This one's a wild ride, my friends. During the Body-To-Body Happy Ending, your masseuse will be on top, using her belly (and maybe her hand) to stimulate your most intimate parts. Prepare yourself for intense sensations reminiscent of classic sex, all while maintaining the sensual allure of a massage.

Classic Sex / GFE Finale: Here's the crème de la crème, the most erotic Happy Ending of them all—the GFE Finale. Get ready to embark on a journey of passion and pleasure like no other. With the GFE Happy Ending, you can expect passionate kisses, oral delights, Lingam massage, mutual affection, caresses, and mind-blowing classic sex with your talented masseuse. Brace yourself for an experience that will leave you craving more.
Unlock the Pleasure Vault: The Ultimate Guide to Sensual Massages for Clients
So, you're intrigued and ready to embark on a journey of pure bliss. But where do you find these sultry masseuses? Fear not, my adventurous friends, for I have the secrets to guide you:
Escort Directories: Dive into the enticing world of escort directories like onebackpage.com. Unveil a realm of pleasure by searching with phrases like "Erotic Massage -City-," "Sensual Massage -City-," "Lingam Massage -City-," or "GFE Massage -City-." Let your fingers do the walking, and your desires will be fulfilled.

Online Search and Social Media: Unleash the power of search engines like Google and explore the depths of Twitter. Look for profiles, websites, reviews, and alluring photos of masseuses with visible faces. The more trustworthy the profile, the more enticing your experience will be.
Choose Wisely: Finding the Perfect Erotic Masseuse
Now that you know where to find your enchantress, it's time to choose wisely. Here are a few tips to ensure your satisfaction:
Massage Preferences: Are you longing for a session that starts with a tantalizing, relaxing massage? Seek out a masseuse who specializes in professional Swedish massages. If you're more interested in skipping straight to the sensual delights, opt for a Nuru massage or an intuitive Mutual massage with your seductive masseuse.

Sensual Desires: When it comes to the sensual side of the massage, everyone has different preferences. If an intimate massage sounds tantalizing, go for a Lingam Happy Ending. If you desire an experience brimming with affection and eroticism, look for sessions that involve kissing, cuddling, joint showers, oral sex, or even classic sex. For the ultimate indulgence, the GFE massage is your ticket to paradise.
Prepare for Pleasure: Erotic Massage Preparations
Now that you've made your choice, it's time to prepare for the ultimate pleasure experience. Follow these tips to make the most of your erotic massage:
Preparing for an Incall Massage: If you're visiting your masseuse at her studio or apartment, there's not much prep needed. Just make sure to take a shower at home and, if you like, groom those intimate areas. When you arrive, you'll have a chance to freshen up again. At an erotic massage studio, you don't need to bring anything with you—towels, oil, and shower gel will be provided.

Preparing for an Outcall Massage: If you've opted for an outcall massage, where the masseuse comes to your home or hotel room, you'll want to prepare a few things. Have a big towel ready to spread on the bed and an extra towel for the masseuse to use after the shower. A box of tissues on the bedside table is a thoughtful touch. The masseuse will bring the rest—oil, music, and, if you've chosen a massage with sex, condoms.
Embrace the Sensual Journey: What to Expect During an Erotic Massage
As you eagerly await your first erotic massage, let me shed some light on what you can expect during this enchanting session:
Relaxation and Care: Prepare to be whisked away into a world of relaxation and care. Your masseuse will pamper you with her soothing touch, ensuring every moment is designed to please and satisfy your desires. Feel at ease as you surrender to the blissful sensations.

Nurture and Arousal: Arousal will intertwine with nurturing touch, creating a symphony of pleasure. Explore the depths of sensuality as your masseuse's skilled hands navigate your body, leaving you calm, satisfied, and yearning for more.
Behave with Passion: Etiquette During a Sensual Massage
You may be wondering how to behave during this intoxicating experience. Fear not, for I shall enlighten you:
Respect Boundaries: Every masseuse has her own range of services and boundaries. Familiarize yourself with your masseuse's rules by perusing her website or profile. Be sure to communicate your desires and confirm if full nudity, mutual touch, intimate touch, cuddling, or kissing are allowed. Respect her boundaries, and expect the same in return.
Communication is Key: The Importance of Expressing Your Desires
Before embarking on your first erotic massage, remember that communication is key. Express your expectations, limits, and boundaries to ensure a seamless and pleasurable experience. If, at any point during the session, you feel uncomfortable or desire an adjustment in technique, don't hesitate to speak up. Your satisfaction is paramount.
Indulge in Sensual Bliss: Frequency of Erotic Massages
You might be wondering how often you can partake in these divine experiences. The answer, my friend, is as often as you desire. Regularly engaging in erotic massages enhances their benefits and allows for a deeper connection with your masseuse. Many clients opt for weekly or biweekly appointments to truly savor the journey.
Let Passion Ignite: Erotic Massages for Virgins
If you're a virgin seeking an exploration of sensual delights, fear not. Erotic massages are an excellent choice for your maiden voyage. Begin with a gentle version of the sensual massage, such as the Lingam massage. If you're craving more intensity, the GFE massage will take you to uncharted heights of pleasure.
Unlock the Pleasure Vault: The Ultimate Guide to Sensual Massages for Clients
So, my daring companion, you have delved into the world of sensual massages. Armed with knowledge and desire, you are ready to embark on a journey of unrivaled pleasure. Remember, these experiences are for consenting adults only. Before indulging, ensure that erotic massages are legal in your country.
If relaxation, tempting touch, and unparalleled satisfaction call to you, then sensual massages are undoubtedly your path to euphoria. Discover more about who these mesmerizing massages are designed for and let your desires guide you.
Indulge in Passion: A Sensual Massage Journey Awaits You
Comments
No comments has been added on this post
Add new comment
You must be logged in to add new comment.
Log in