Blasphemy Phone Sex - Rhiannon's Deal with the Devil
Rhiannon grew up very reserve and Catholic until one day, the devil pays a visit.
Phone/Virtual Providers
19. Sep 2022
96 views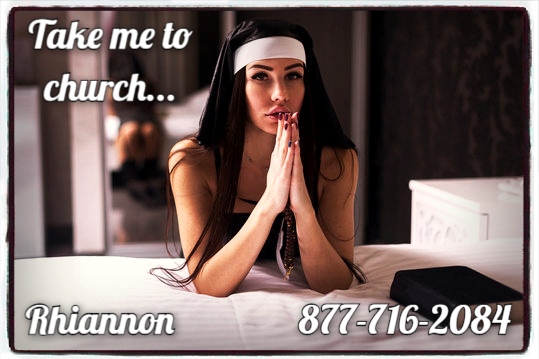 Greetings, perverts! Blasphemy phone sex is one of those things that really gets my blood pumping to all the right places. I grew up in a very religious home, and even attended St. Mary's Academy, which is an all-girls Catholic school Portland, Oregon. Because of this upbringing, there are some things that have definitely stuck with me, including a healthy fear of all things evil and sinister. Maybe I'm getting ahead of myself, but you'll definitely want to keep reading to see what happened to me, especially if you share my love of blasphemy phone sex.
It's not easy to admit, but I made a deal with the devil. You may laugh and think, "How is that even possible?" but it truly is. When I first met you, it was obvious that I was a pretty forgettable person. Seeing you at the local coffee shop every morning was enough to pique my interest, but every time I tried to get up the courage to say something to you, it was like I didn't exist. Really, it was like a scene out of a shitty rom com. After mustering up every ounce of courage I had, I would walk up to you, ready to ask for your number - and you'd just walk on by. 
It was utterly tragic, and I decided right then I'd do anything to get what I want.
Being so plain-looking wasn't really a hindrance to me until now. Before now, I didn't really want to draw attention to myself and was completely fine with blending into the background. Having you ignore me though was absolutely driving me crazy! All I want is for you to want me as badly as I want you. When I play with my pussy, I picture your fingers, your tongue, and most of all - your thick cock - pumping in and out of me, bringing me to mind-blowing orgasm. 
This deep need for you forced me to do quite a bit of praying. Prayer, however, didn't give me any answers, though I hoped it would. One evening, after praying and reading through The Bible, I said to myself aloud, "I'd sell my soul for him to notice me." Honestly, it was just a passing comment borne from frustration, but it proved enough to a satanic demon, wanting to use my body for sinning. 
The demon appeared before me, seeking to turn me from God by tempting me with seductive sin.
It was utterly terrifying to be confronted by a demon, and what he offered was complete blasphemy. This unholy demon would change my appearance, should I promise him my eternal soul and seal our satanic deal with sex. Intercourse with the devil? How could I do something so sinister? And losing my soul to the fiery pits of hell just to get the man I desired. I'd have to think about it. The lustful demon, however, told me I needed to make the choice then and there. What was a girl to do?
How could I say no to this deal that would give me what I was definitely longing for? The answer was simple: there was no way I could say no to him. Knowing this, I nodded my head to let the demon know I would agree to his demands. Once I did so, I felt my body begin to transform. With pops and stretches, I became an entirely different-looking person. My breasts were ample and quite firm. Wandering fingers made their way to my face and I could feel that my face was completely different from what it once was. 
I had sold my soul to get the man I wanted. My soul was forfeited and I was about to fuck a demon so that you would be mine. 
Laughing, the demon bent me over. In a flash, all of my clothes were completely gone and I was completely nude. His scaley hands brushed over my pale, tender, flesh and it was all I could do to not gag as he touched me. The demon's long and pointed fingernails spread my pussy lips open, exposing my pink insides. 
It was then that I felt what I assumed was his cock tracing over my entrance before hungrily plunging inside of me. Those long nails were digging into my hips, pulling me closer to him, for my initial instinct was to pull away.
Thrust after thrust made me cry out. In pain, but also in pleasure. He was rough, but gentle as well. It was a completely strange experience, but also exactly what I craved when it came to sex. Thrust after thrust brought me agony, but also so much intense pleasure that I couldn't help from cumming. When his hands tugged at my raven hair, snapping my neck backward, I screamed and then began to orgasm. My tight, wet, little fuckhole gripped that demonic dick, squeezing it with my sweet release. 
The lusty demon's moans of pleasure told me everything I needed to know.
My pussy was burning! It felt as if there were a red-hot poker being shoved into my cunt over and over, but that was not the case. The demon's acid-like cum trickled down my thighs, searing my flesh as it did so. As I was whining in horrific pain, the demon spun me around to face him. He told me that the deal was done. I had committed such an act of blasphemy! Fornicating with a demon to get the man of my dreams. It was all I could think about as the demon pressed his scaled lips to my forehead and then disappeared in a puff of grey smoke.
The scent of brimstone lingered in my nostrils after he disappeared. Still nude, I reached between my legs to mop up the burning semen, and found nothing. On my inner thighs, there were just raised welts, not the scars I expected. Soon, there would be no trace at all of my encounter with evil except for my new, nubile body, and my more eye-catching visage. I can't wait for you to notice me the next time you come into the coffee shop. Will you be able to resist me? Well, we'll have to see. Won't we?
I hope you enjoyed my take on blasphemy phone sex. 
Until next time.
XoXo,
877-716-2084
Comments
No comments has been added on this post
Add new comment
You must be logged in to add new comment.
Log in